On November 7, 2019, Yo Art held a Night of Fashion at Gwynn's of Mt. Pleasant. We had hors d'oeuvres, cocktails, a raffle, many local fashion and Yo Art supporters, and, most importantly, our Fashion Design students' work on display.
Middle school students at Jerry Zucker in North Charleston worked for 12 weeks with instructor Jonatan Ramirez and Yo Art's Director of Development Greg Colleton. First, they learned the history of fashion design, then switched to computers and started work in Inkscape. The software taught them to pay attention to shapes, patterns, forms, and color, all while reinforcing technological skills used in the 21st century workplace.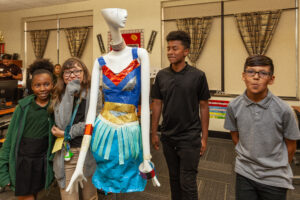 Then the students brought their ideas to life and used found and recycled goods to create garments on dress forms.
A Night of Fashion at Gwynn's was a great night of fundraising for the organization and a great opportunity for the students' to show what their hard work, dedication, and creativity created!